Decrease in shipments of small and medium-sized panels by 7% in December
According to IHS iSuppli's small and medium monitor price tracking report, the number of SMD panel shipments for smartphones, tablets, and digital cameras was the third consecutive month in December due to weak demand, reduced inventory, and other industrial factors. Decline in the month.
In December 2011, global shipments of SMD panels were 191.6 million, a decrease of 7.4% from the previous quarter, while they declined by 6.2% and 1.8% in November and October respectively, as shown in Figure 5.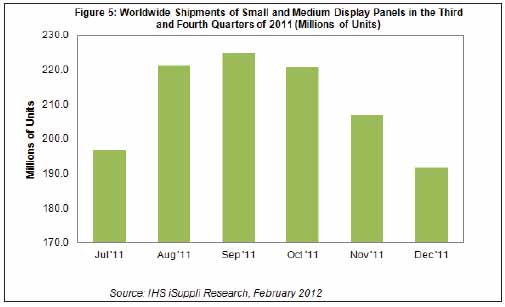 In December last year, the total shipments of six Taiwanese suppliers decreased by 6.3% to 160.3 million, while the total shipments of the two Korean suppliers fell by a further 13.1% to 31.3 million. These Taiwanese suppliers are Chunghwa Picture Tubes, Chi Mei Optoelectronics, HannStar Display, Wintek, AUO and Lingju Technology. South Korea's two suppliers are Samsung monitors and LG monitors.
December shipments of SMD panels (less than 10 inches in size) decreased, partly due to the normal seasonal pattern. After the peak of holiday demand, suppliers cleaned up the remaining inventory in the third quarter and reduced production in the fourth quarter. However, sluggish demand is also one of the factors that caused the decline in shipments. The global economy still faces various uncertainties and has a negative impact on various consumer markets. Another factor is that China's Spring Festival this year, in January, pushed demand from the fourth quarter to the third quarter, further suppressing the fourth quarter SMD shipments. The Spring Festival of 2011 on February 3 is much earlier this year and is on January 23.
In addition, Chinese manufacturers such as Tianma Microelectronics and BOE Display Technology Co., Ltd. recently adopted aggressive panel price strategies to break into consumer electronics brands and domestic brands, including a large number of so-called white-label manufacturers in China. This strategy will help Chinese display suppliers expand their share of the price-sensitive entry-level handset market.
Chinese suppliers are also interested in diversifying their products in 2012 and are planning to add IPS/AFFS and AMOLED displays to their product portfolio.
Due to poor market conditions, shipments in the first quarter of 2012 are expected to continue to decline sequentially. In addition, the global economy is weak and China and India have experienced a slowdown in the economy, which will continue to bring uncertainty to the equipment and display market in the first half of this year. China and India are two rapidly growing SMD panel markets.
Overall, smartphones and tablets will continue to be the key areas for the growth of monitor demand. Apple may launch its next-generation iPads and iPhones in March and June, respectively, and other vendors will launch similar products. This should maintain strong demand for high-resolution, larger displays, which in turn pushes up the average sales price of dedicated monitors. On the contrary, the displays used for existing products and entry-level products, especially those for the Chinese white-box market, will have no improvement in the average sales price trend and will only continue to decline.
In the tablet PC monitor market, the average selling price in December dropped by 1% to $49.19, and Amazon and Barnes & Noble launched a smaller 7. The size of the x-inch tablet monitor is also one of the factors causing the average selling price to drop. Amazon may use a larger 8 in its next-generation tablet products. x inches or 10. x inch display, but Apple may look at the smaller 7.85 inch iPad. Market dynamics in display size, resolution, and shipment volume will have a significant impact on the industry's average display price.
Author: Vinita Jakhanwal, Michael Grey iSuppli Company
Ladder Cable Tray is designed on the basis of corresponding documents in and abroad.It has many advantages:light weight,low cost,reasonable construction,easy installation,heat radiation and permeation etc.It applies to laying of cables with big diameter,eapecially to laying of high and low voltage power cables.
Quality assurance:
1. Low cost, significant cost savings compared to standard traditional tray products.
2. Light in weight, wide range of sizes.
3. Fast heat dispersion.
4. Strong enough to withstand short circuits. Provides strength, rigidity without additional hardware.
5. Adapts to difficult architectural designs to accommodate changes in direction and elevation of cable runs.
6.Flexible, easy and fast installation. Design allows cable exit or entry at any point.
7. Cables can be secured to clamps or ties.
8.Various hardware accessories available to fix, support and install.
9. Safe smooth edge design to protect cable.
10.Easy for line check and cleaning , easy maintained.
Ladder Cable Tray,Aluminum Ladder Cable Tray,Ladder Type Cable Tray,Perforated Cable Tray
Jiangsu Loncin Electrical Equipment Co.,Ltd , https://www.loncincabletray.com