GLII: Online shopping market or new battlefield for LED lighting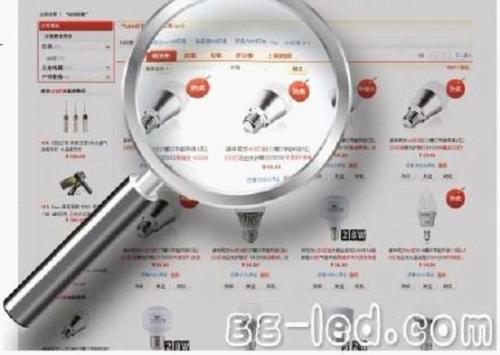 According to the survey data of the China Consumer Association in 2010, as the Internet generation has gradually become the main consumer in the 1980s and 1990s, the online media has developed rapidly. Fifty-two percent of consumers said they obtained brand information through the Internet, which is enough to explain the problem. The rapid growth of online shopping also provides a new possibility for the entire industry's sales channels.
According to Liu Xiao, deputy general manager of the lighting division of Tongfang Group, in 2011, their monthly sales of LED lights in Jingdong Mall and Taobao could reach more than 10,000, accounting for about 15% of their total sales.
Looking at other traditional home-based consumer products online shopping market, survey data show that domestic online shopping and sales in home building materials, furniture and other areas account for no more than 5% of total sales.
According to report, many LED companies, including Tongfang, have already distributed goods through online shopping malls. According to the research report of the LED Industry Research Institute of Gaogong, the lighting consumption of most households currently accounts for about 10% of the renovation costs, and the proportion is still rising. The online shopping market is also quickly becoming one of the new retail sales models for LED lighting products.
Restriction of traditional retail channels For LED lighting companies at this stage, it is very difficult for LED lamps to rapidly enter the distribution channels of traditional lighting fixtures, and the capital investment in the early stage is also very large. The advantage of low cost and wide coverage as an online sale becomes clear.
Liu Xin introduced to Gaogong LED reporter. "Online sales have two characteristics. First, the audience is very wide, there is no regional restrictions; the second is to achieve flat management and shorten the intermediate circulation."
More importantly, at this stage, it is still difficult for ordinary consumers to purchase high-quality LED lights in traditional channels such as supermarkets or hardware stores. At present, more than 95% of the traditional lighting channels in China do not use large area sales of LED lighting products, only a few large supermarkets such as Wal-Mart and other brands have a small number of styles of LED light bulbs in sales. Therefore, those ordinary consumers who understand LED lighting can only turn to the Internet to find products, which also caused the current online sales of LED lights.
According to an insider who claimed to be Taobao, he told reporters that they once bought a LED light bulb at a price of 39.8 yuan (group buying is a means of low-cost promotion of the product within a limited time, and the price is higher than ordinary online shopping. Low) In just a few hours, 7000 LED bulbs were sold out. In order to meet the requirements of the majority of netizens, Taobao conducted an emergency replenishment and was ready to launch a second round of group purchases.
According to He Wenbin, director of operation of the LED Industry Mall of Gaogong, online shopping can reduce the purchase cost of goods arriving at end users, which can be reduced by at least 15-30% compared with traditional channels. At the same time, online sales channels are not only sales channels for goods, but also a promotion channel for brand promotion and product display. Many companies are very willing to accept this sales model.
According to the investigation of the Gaogong LED reporter, the current online sales pricing of LED lamps is generally lower than the offline sales price. At the same time, the company still needs to deliver certain management and promotion fees to the third-party trading platform. Therefore, the profits of online transactions are basically the offline transactions. Profit is flat, even lower. It is reported that the profits of online trading of LED lights currently remain at about 20%, and there is room for further decline.
"The price of LED lamps is much higher than that of energy-saving lamps. Consumers have a certain degree of difficulty in accepting them. Therefore, the amount of online transactions will not go too fast." Liu Wei pointed out that as prices fall, people's acceptance of LED lamps will gradually increase. Increase, but the overall market situation this year is still not optimistic.
With the continuous decline in the prices of raw materials and lighting devices, the LED lamp market prices will continue to show a downward trend this year. According to a person in charge of Yang Xing, a small and medium LED lighting company in Shenzhen, from December last year to February this year, the price reduction has reached 20%.
The combination of online and offline LED companies that are considered to be carrying old business models is not reconciled to being taken by the emerging channels. So in the past two years, many traditional enterprises have begun to test the water e-commerce quietly, have launched their own B2C website or online flagship store.
The above-mentioned Yangxing person in charge of the company is also selling LED products on Taobao, because the product quality can not be improved, and Taobao has seven days unconditional return policy, the quality of control is more stringent, so now has canceled the transaction with Taobao. Now he is building his own online trading platform. According to him, the online trading platform is only used as an image to display and collect customer information, contact with customers and then conduct bulk transactions online.
SMEs are looking for a new combination of online and offline transactions.
Gaogong LED boutique mall is one of the few professional LED lighting procurement platforms in China. At the same time, it has its own online and offline sales department consultants. Customers only need to provide products to Gaogong LED boutique mall for sales. He Wenbin revealed that the number of online shopping malls actually completed online purchases is not large, and more transactions are completed through offline bulk purchases.
"Because customers lack understanding of LED lighting and only know the concept of energy conservation, these need to assist customers in completing transactions through professional product sales consultants." At the same time, He Wenbin also stated that at present, there are still some problems in the promotion of online transactions. . In other words, for companies that already have a number of traditional offline channels, the online sales price system will have an impact on their original channel price system. Therefore, the price system must be divided between the product system and the price system of the two channels. After the distinction is made, the online sales channel can be constructed again.
The younger generation of online consumer groups after 80, 90 is growing up as the backbone of consumption. Their consumption habits are changing the existing rules of the Chinese retail market. According to statistics from relevant agencies, 75% of online shoppers are younger than 34 years old. This can also be interpreted as: Young online shoppers are spending more.
Liu Ye also affirmed this statement, with the side of the stock is the company earlier through the online sale of LED lighting companies, they have their own lighting flagship store in Taobao. He introduced that online consumers of Tongfang's shares tend to be younger, mostly after 80's and 90's. "The main reason is that with the growth of the post-1980s, the network naturally has a close relationship; secondly, the ability of the new generation to accept new things is faster, and the concept of consumption is more fashionable." At present, the same-party stock consumer groups are scattered, single-batch orders Not too many, ranging from a few to dozens.
Currently in the retail business, LED is mainly used in the decoration of new venues. With 80 after becoming the main force of purchase, in the choice of lighting, LED lamps will become their fashion choice.
The amount of sales on the Internet is gradually increasing. Liu Ye told reporters that they also believe that e-commerce will slowly become one of the major ways of LED retail sales in the future. "Of course, it will not exceed the size of the physical stores and commercial supermarkets. Online sales still have its problems. Although it is relatively direct and the audience is relatively large, consumers cannot see anything in real terms. They just trade across the screen. There is no real reality. In the experience, this is where consumers are concerned. So in a short period of time, e-commerce will not exceed the sales scale of the physical store."
"The main problems that need to be solved at present are the popularity of knowledge about LED lighting products and the development of consumer habits." He Wenbin pointed out that in the future, under the guidance of 80s and 90s, companies will pay attention to information collection and product procurement on the Internet. Online sales channels will certainly become a sales channel that cannot be ignored.
Developing e-commerce is a general trend. At present, companies should begin to consider how to combine online sales channels with traditional offline channels to form an all-dimensional, three-dimensional marketing communication channel, which will be driven online and offline, and promote offline online to form a benign sales system.
Essential oils don`t just add aroma to a room, they also provide numerous health benefits for the household. Using a Scent Diffuser is probably the easiest way to dispense these benefits into the air so as to improve your health, boost your energy and promote good sleep, among others.


This Home Scent Diffuser offers a natural and safer alternative to air fresheners, especially if you want to take a more active role in your own health. Scented Oil Diffuser can fill a room with the natural fragrance from oils that freshens up your home while promoting overall wellness.

Diffuser essential oil has relaxing properties that create a restful and uninterrupted sleep. The mist produces a long-lasting effect that induces sleep through the night.
Just as a Aroma Diffuser elevates mood, many use it to reduce anxiety and promote peace of the body and mind. It creates a calming effect in your home that is great for when you`re feeling burned out or depressed. It also sets a positive atmosphere and inspires high spirits whenever you need them most.
CREATES A HEALTHY ENVIRONMENT
Essential Oil Diffuser also double as humidifiers, keeping your airways moist and healthy, making you less susceptible to microbes.
Scent Diffuser
Scent Diffuser,Waterless Diffuser,Home Scent Diffuser,Scented Oil Diffuser
Shenzhen Dituo Electronic Co.,Ltd. , https://www.sz-dituo.com