Marvell brings industry leading comprehensive smart home solutions to CCBN 2013
Beijing, March 21, 2013- Content Electronics Technology (Marvell, Nasdaq: MRVL), a global leader in integrated chip solutions, today announced that at the China International Radio and Television Information Network Exhibition 2013 (CCBN 2013), Marvell Total chip solutions for digital entertainment, smart connectivity and LED lighting will be displayed, including: Lenovo Smart TV based on the award-winning ARMADA® 1500, the latest Google TV equipment and new IPTV, OTT, DVB solutions; Demonstrate smart connectivity solutions, such as the industry 's first 802.11ac 4x4 MIMO chip Marvell® Avastar® 88W8864, G.hn wired home networking solution, Marvell mPrint mobile cloud printing module, Marvell All-in-One virtual desktop, and industry-leading LED intelligent lighting solution. This is Marvell's first large-scale comprehensive demonstration of the latest smart home solutions in China, and it once again reflects Marvell's strong and comprehensive technical strength.
Chen Wei, Global Vice President of Marvell 's Smart Home Business Unit, said: "A seamlessly connected lifestyle has changed the way consumers use modern technology in their homes, offices and on the road. Marvell is very proud to promote the digitalization of a" happy connected life " The new era of smart TV. The comprehensive smart TV and smart connection solution displayed on CCBN will provide users with an immersive digital entertainment experience on any screen anytime and anywhere. 2013 will be a smart TV In the booming year, we are very pleased to continue to maintain stable cooperation with many world-class OEM manufacturers. From high-definition smart TVs to set-top boxes, smart products based on the ARMADA 1500 series will be more popular worldwide; and, the ARMADA 1500 series platform has recently Winning the 2013 China Electronics Achievement Award also further validated the recognition of our Chinese customers. Combining these high-performance, low-power, and cost-effective digital entertainment products, Marvell has a comprehensive product line and strong innovation prove."
Marvell will showcase a number of next-generation breakthrough solutions and products from OEM customers at booth 3103, Hall 3, China International Exhibition Center, Beijing, March 21-23, 2013.
The products and solutions exhibited by Marvell include:
Smart TV and set-top box product solutions based on the ARMADA 1500 platform:
Lenovo-Lenovo's latest S31 smart TV uses the Marvell ARMADA 1500 series SoC platform and is one of the most cost-effective Android smart TVs on the market. Lenovo 's latest smart TVs are aimed at price-sensitive consumers, and once again demonstrate Marvell 's deep commitment to global consumers to "satiate the connected life". Lenovo first adopted the Marvell ARMADA 1500 platform on its S51 and S61 smart TVs launched in the fall of 2012.
· Hisense-Hisense Pulse 's latest set-top box uses Marvell 's award-winning Marvell ARMADA 1500 series of Soc platforms.
· TCL-Google TV-based TCL MoVo Box (Internet Set Top Box) uses the Marvell ARMADA 1500 series SoC platform to bring consumers more ways to provide entertainment and Internet services based on TV, while also making Marvell 's smart TV-related technologies More popular.
· IPTV, OTT solutions-based on Marvell ARMADA 1500 series high-performance video processing platform, using Android 4.0 / 4.2 system, fully supporting the requirements of Chinese OTT operators, providing high-quality Internet HD video-on-demand services; this solution can also support China Telecom requires IPTV to provide high-definition IPTV services, including live broadcast, on-demand, and look-back services. At the same time, the program not only allows users to enjoy high-quality video services, its excellent computing power and graphics processing capabilities, but also allows users to better enjoy more exciting applications including complex games.
· DVB solution-Based on the Marvell ARMADA 1500 platform, it can support China's DVB-C cable TV access and a new type of intelligent set-top box for OTT video. The product supports the integration of CA function modules and DVB-C application software, which can fully support existing cable TV services, including live broadcast, on-demand, information services, etc., and can be connected to the Internet, allowing users to watch Internet video content at the same time. The solution uses Android 4.0 system, which can easily and safely introduce various applications.
· Ultra High Definition (4Kx2K) ATSC Google TV-built-in RF, CVBS, YPbPr, RGB and HDMI input ports, all input ports support up to 120Hz ultra high-definition display, while providing comprehensive Google TV functions, including YouTube, Google Play, Chrome Browser, search and other services.
· Marvell remote control platform-Marvell has launched an advanced remote control platform for smart TVs and smart homes, featuring user-friendly voice search and gesture recognition. Marvell's overall solution complements its award-winning ARMADA1500 series of SoC platforms, providing comprehensive support for Google TV, smart TVs, and smart homes.
Smart connection solution
· The industry's first 802.11ac 4x4 access point, Avastar 88W8864-Marvell's solution provides up to 3 times the Wi-Fi throughput, making reliable carrier-grade multi-stream HD video based on Wi-Fi networks possible. In addition, the new 88W8897 2x2 mobile MIMO combines 802.11ac, Near Field Communication (NFC) and Bluetooth 4.0 to provide flexible and excellent Wi-Fi connection for video streaming, which can easily meet the needs of home multimedia products.
· G.hn wired home networking solution-Marvell's award-winning and first certified G.hn cable technology has been adopted and deployed by many industry-leading Asian customers. Successfully designed in several modem prototypes to support the growing demand for G.hn home networks. Marvell's solution is transmitted through various household cables including power lines, coaxial cables, twisted pairs, and optical fibers. The data transmission rate can reach up to 1 GB / sec.
· Marvell mPrint mobile cloud printing module-Marvell will showcase its latest low-cost USB interface, which allows consumers to add a variety of wireless connections and mobile printing capabilities to traditional printers, further expanding the availability of the device.
· Marvell Virtual Desktop-Marvell will showcase its latest Marvell All-in-One virtual desktop, jointly developed by Marvell and ZeroDesktop, to bring cost-effective Android-based cloud services and cloud computing to existing and emerging markets Series products.
LED intelligent lighting control solution
· LED intelligent lighting solution-using Marvell's innovative dual-string LED independent drive 88EM8801 and low-power ZigBee network technology to provide a complete, wirelessly connected lighting control solution. The Wi-Fi / ZigBee gateway connects the lighting control network and the home network, and users can control it through smartphones and tablets.
About Marvell
Marvell (Nasdaq code: MRVL) is the world's leading provider of complete chip solutions, aiming to achieve a digital "happy life with interconnection". Marvell has a diverse product portfolio from mobile communications, storage, cloud infrastructure, digital entertainment to home content delivery, combining a complete platform design with industry-leading performance, security, reliability, and efficiency. As a strong core of consumer electronics, networking and enterprise systems, Marvell keeps its partners and customers always at the forefront of innovation, performance and public demand. Marvell is committed to improving the life experience of the general public, adding value to social networks, life and work by providing mobile and easy-to-access services to users around the world.
Headphone speaker is a king of speaker unit which is used for headphone, it also called headphone driver. These speakers have high sound pressure level, fast frequency response, wide frequency response range and low distortion. Headphone Speakers are mainly used for voice headphone (e.g. customer service phone, call center headphone, military intercom headset- ) and music headphone (e.g. Bluetooth headphone, sport headphone, game headphone-).
Our main headphone speakers include:
1) From the diameter, we have speakers in 23mm ~ 57mm.
2) From the impedance, we have speakers of 32ohm/150ohm/300ohm/1000ohm.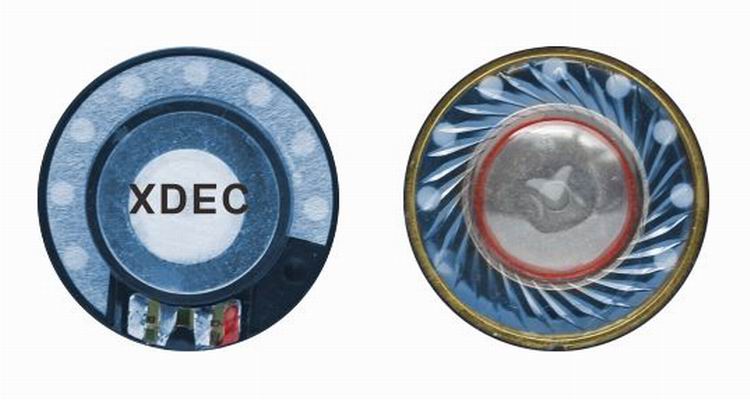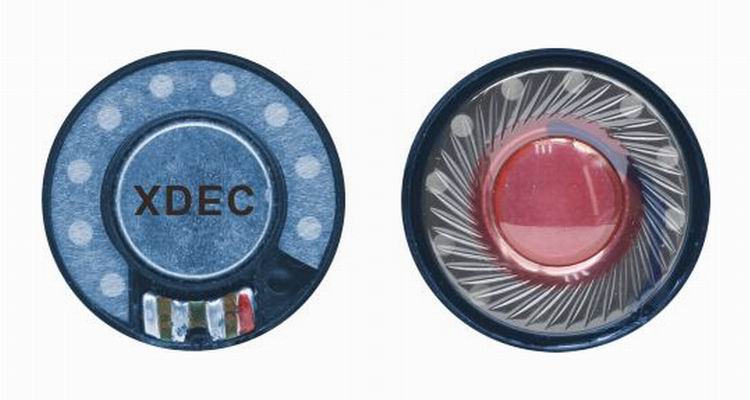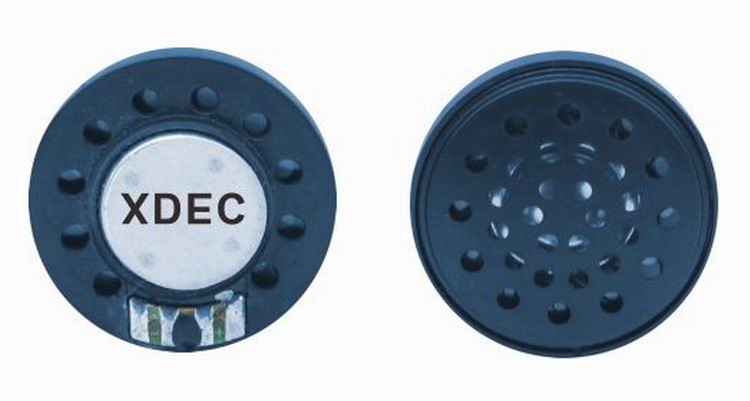 FAQ
Q1. What is the MOQ?
XDEC: 2000pcs for one model.
Q2. What is the delivery lead time?
XDEC: 15 days for normal orders, 10 days for urgent orders.
Q3. What are the payment methods?
XDEC: T/T, PayPal, Western Union, Money Gram.
Q4. Can you offer samples for testing?
XDEC: Yes, we offer free samples.
Q5. How soon can you send samples?
XDEC: We can send samples in 3-5 days.
Bluetooth Headphone Speaker,Sport Headphone Speaker,Hifi Headphone Speaker,Music Headphone Speaker
Shenzhen Xuanda Electronics Co., Ltd. , https://www.xdecspeaker.com